You've come to the correct place if you're searching for the best AFK Farm Tool bot for Rainbow Six Siege. We've added a working, helpful, and completely free R6 siege AFK farm bot that can be used to level up in your game.
SmileyP built the R6 Siege AFK bot, which is a modified version of the previous creator who released the source code. If you're a programmer, you may look at the bot's source code here: Source.
About R6 Siege AFK Farm bot
In Siege or any other FPS game, AFK farming is a strategy. Players can use bots or other tactics to move their characters every few seconds to prevent being kicked for inactivity.
This allows AFK players to complete matches without trying to participate in much activity. This bot can play all games and has two different modes. He is also capable of anything but killing in his human state. The Bot is in AFK mode, which is obvious.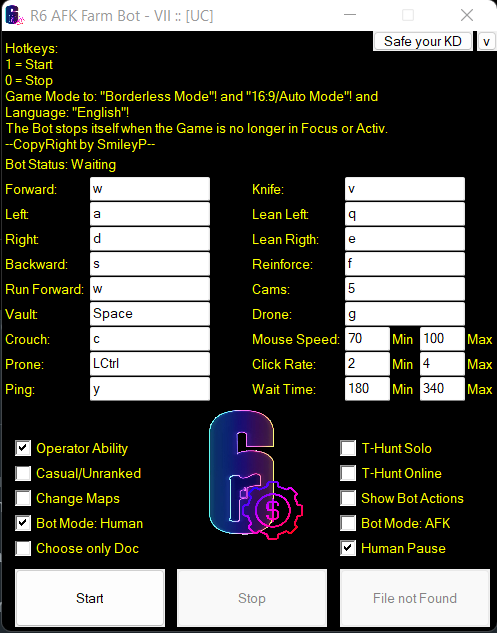 All Working Features
Random Positions to Click (for Buttons)
Movement
Use Ability
Able to change the Map in T-Hunt
Show the Bot actions
Choose only Doc
Make a Pause between Games
Run the Game without Battleye
Can Run in Borderless/Fullscreen Game window Mode
How to Use R6 AFK Farm bot?
Using the Bot is very easy, and user friendly, simply follow the below steps to set up your R6 farm bot very easily without getting into any trouble.
First Download the Bot
Start the game.
Participate in Lobby
Start the bot.
Enjoy!
Note: Please close your Antivirus or Windows Defender, if the download fails or bot does not work properly.
Download Rainbow Six Siege AFK bot